A SERIES OF LUCKY MEETINGS
A rich day of negotiations in the school sector in the background of Casamicciola Terme

The island of Ischia has certainly built its economic strength on the tourism industry. However, it should be stressed that it was possible thanks to the efforts made by our local school institutions, some of which have founded their training on the teaching of the theoretical, practical and linguistic bases of specific working areas. In a nutshell, the School is what enables the job economy to progress and grow. Today, I have the utmost privilege to witness the potential birth of future school collaborations.
In fact, we have had a special guest here in Ischia on holiday, accompanied by her spouse: Susanne Kime, Headteacher of St. Andrew's CE Primary School in Preston, Lancashire. Given the previous contacts with Thomas David Whitehead, a former pupil of the same school, Susanne was cordially invited to his residence in Casamicciola Terme for an informal visit. Yet, thanks to the idea of engineer Giuseppe Conte and Dr. Ambrogio Mattera, there was a casual and lucky opportunity to deepen a working and collaborative relationship with St. Andrew's itself, in order to provide contacts with other educational institutions and universities in the UK encouraging students tin coming to Ischia to deepen the study of Italian and validate university exams and other training activities (thanks also to the collaboration with the Pegaso E-learning University).
Moreover, we expressed our desire to create an opportunity for mutual twinning and student exchange with other British primary and secondary schools, thus facilitating direct contact with foreign soil. Meetings took place late in the morning of today (30/08/2017), first at Mr Whitehead's residence in Via San Pasquale and later at the Marina 10 Hotel in Piazza Marina. Further guests were: the headmaster of the "Cristofaro Mennella" institute of Casamicciola Terme, Giuseppina Di Guida; The delegate to the Public Education of the Municipality of Casamicciola Terme, lawyer Nunzia Piro; The pediatrician Dr. Enzo D'ambrosio; Engineer Dr. Giuseppe Conte; Dr. Ambrogio Mattera; Mrs. Kime's spouse, Mr. Jeremy.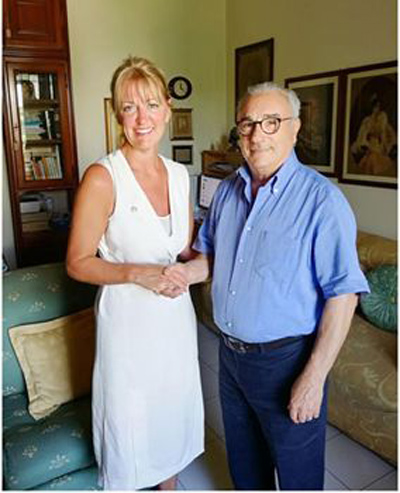 S.M .: To get started, would you like to give us a brief personal presentation?

S.K .: Of course! I'm Susanne Kime, Headteacher at the St. Andrew's CE Primary School in Preston, Lancashire. In addition to this, I supervise and work with other Preston local institutes. I started with a course in Law and, in two years, I will end my role as a headteacher to become a magistrate. So I can say to have come full circle in my life!

S.M .: How come you are in Ischia? Are you enjoying it?

S.K: The idea came after a both exciting and tiring trip to South Africa; we needed a week of pure relax! So we went for Ischia, as it is both a quiet and very characteristic place. Meanwhile, we had received an email on behalf of Mr. Whitehead, our former student, who, while graciously remembering our school, asked us how things were going. As we are here on holiday, we decided to make a visit. It was pure coincidence!

S.M .: We are curious to know about your School. Tell us more!

S.K: The school was born in early 1900 as a primary male institution; next to it there was a church used as a primary female institution. Subsequently, the two institutes were assembled in one institution which hosted both an infant and a junior school. In about 15 years, St. Andrews has become one of the largest primary institutions in Lancashire (the largest in the Preston area); it currently has 450 students and over 50 teachers (plus a large number of staff members).

S.M .: Which is, according to you, the strategy to improve the organizational quality of a school and, as a result, to consolidate contact with other institutions and/or businesses?

S.K: In the case of our school, we have always been concerned about organizing inspections to ensure high quality standards on all aspects. In addition to that, we have put in place a series of waiting lists for both potential teachers and students who are eager to approach St. Andrews, thus widening the range of both educational and working opportunities throughout the working year. Finally, we keep hosting seminars for both teaching and general staff; In this way, we have won several prestigious awards, such as, for example, the one for "best primary school in Lancashire". To sum up, I would say that there are three important "secrets" to remember: first of all, as mentioned above, you need to maintain and guarantee a high quality level. Secondly, you need a strong and determined leadership; this also means being ready to sometimes make drastic and "difficult" decisions. Finally, and most of all, you need to put 100% love and passion in your work, which means to take full care of your co-workers and students not for the sole sense of duty, but also with regard and respect to their personal sphere.

S.M: As a community, we are on the verge of launching an Italian language school and Uni campus, as well as having the objective of creating new opportunities for twinning with educational institutions like yours. What advice could you give us, given your experience?

S.K: It is all about establishing priorities. In terms of teaching and general staff, it could be possible to establish and create clusters of staff members willing to relocate and work for a term in a foreign institution. On the other hand, in terms of contact with students, you could, for example, provide paid work experience at your school or in other organizations (subject to prior request of permission from local school authorities) to cover accommodation expenses. The important thing is that there must be a fair exchange of resources and an equal pledge of both educational and working opportunities.